Master Program in
OPERATIONS AND SUPPLY CHAIN ENGINEERING
Sepuluh Nopember Institute of Technology (ITS)
Operations and supply chains are increasingly more complex, involving the flow of goods, information, and money across borders. The newly established master program in Operations and Supply Chain Management is intended to provide well trained people who have the capacity to manage complex operations and supply chain processes. The program is designed for those who have ambitions to become a future leader in the area of operations and supply chain engineering. Successful companies have relied upon people who excell in these important area. It is these people who deliver values to the end customers and maintain efficient operations across the supply chain. The program is fully in English and students have the opportunities to do part of the program in partner universities abroad.
---
Application Deadline : November 2015 for January 2016 Intake May 2016 for September 2016 Intake
Our master program has the following objectives :
To develop graduates that are able of taking leadership positions in operations, logistics, supply chain and manufacturing related positions.
To equip students with strong analytical skills as well as latest conceptual developments and industry best-practices in the related fields.
To train students with research and problem solving skills as well as soft skills necessary for their future career.
Our curriculum is carefully designed to suit the strategic need of modern companies. In our program, students have to master knowledge on concepts, methods, and techniques relevant to operations, logistics, and supply chain management. An industry engagement is also one of the process where students are required to reside in a partner industry for at least two months to sharpen their problem solving skills, communication skills, and ability to work in a team. In addition, our students should be able to conduct a good research that leads to contribution to knowledge and/or to practice.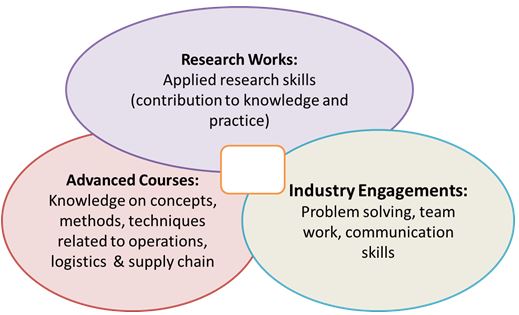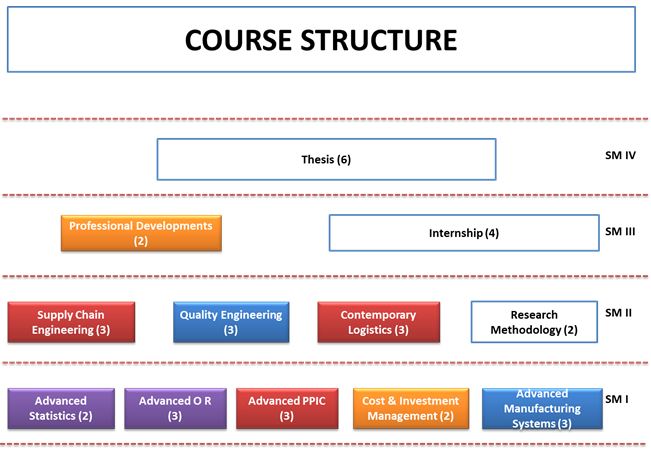 • All courses shall be conducted in English (the delivery in the class, assignments, exams, internship report, and preferably also the thesis) • Internship should be at least 2 months engagements in industry, could be as an individual or group assignment where a professional report is required. The focus is to have a hands-on experience in defining a practical problem, analyzing it, proposing (and perhaps testing) possible solutions. With internship, our graduates would have high confidence in taking up jobs. • Professional development programs equip students with important soft skills such as preparing consulting project proposal, presentation and communication skills, handling conflict, negotiation, dealing with complexity, professional ethics, and career planning.
| | |
| --- | --- |
| Course Name | Contents |
| Supply Chain Engineering | Background of supply chain management, supply chain strategy, product development and the supply chain, network design, demand management, supply management, contract in supply chain, pricing and revenue management, supply chain risk management,  information sharing, supply chain performance & improvement |
| Advanced Statistics | Introduction to inferential statistics, hypotesis testing, Analysis of Variance for experimental design, linear regressions, multivariate techniques. |
| Advanced Operations Research | Optimization concept, formulating optimization problems, simplex methods for solving linear programming, sensitivity analysis and duality, transportation & assignment problems, integer programming, network flows, stochastic models, queueing theory |
| Cost & Investment Management | Basic cost terms and concepts, Job order costing, Process costing , ABC/M, cost estimation, Cost-volume-profit analysis, budgeting, standard costing,  cost analysis and pricing decision, Introduction to capital expenditure decision |
| Advanced Manufacturing Systems | Manufacturing Operation,  Automation, Industrial Robotics, Control systems, cellular manufacturing, assembly line, quality programs, inspection systems, CAD / CAM, concurrent engineering, lean manufacturing |
| Quality Engineering | Quality in manufacturing context, techniques for quality control, control charts, process capability, six sigma, Taguchi models, quality management systems, Total quality management |
| Advanced Production Planning and Control | Types of production systems, manufacturing strategy, production planning and control framework, demand forecasting, sales & operations planning, master production scheduling, material requirements planning, inventory management, capacity planning, scheduling & sequencing, production activity control, Just-in-time |
| Contemporary Logistics Management | Integrated logistics management, customer service in logistics, transportation and distribution, warehousing management, Logistics information systems,  reverse logistics, national and global logistics |
| Seminars on professional development | Preparing consulting project proposal, presentation and communication skills, handling conflict, negotiation, dealing with complexity, professional ethics, career planning. |
| Research Methodology | Defining research problems, reviewing literature, various research methodologies, writing research report |
| Internship | This is minimum 2 months engagements in industry with a focus is to give students with a hands-on experience in defining a practical problem, analyzing it, proposing (and perhaps testing) possible solutions. |
| Thesis | This is reseach work carried out individually with the use of sound methodology and theoretical background. It is expected that a thesis has knowledge and/or practical contribution. |
Bachelor / Undergraduate degree from reputable universities in the field of engineering, science, business, and management.
English (at least 480 in TOEFL Score)
Good standing of TPA Score (Indonesia) or other similar evidence of academic potentials
For more information about this program please contact :
Master Program in Operations and Supply Chain Engineering Department of Industrial Engineering
Kampus ITS Sukolilo Surabaya 60111 Indonesia
Phone +62(0)31 5939361; Fascimile+62(0)31 5939362 (Attn. Rahayu).
Application form is available at www.pasca.its.ac.id
Alternatively you may contact:
Prof. Dr. Ir. I Nyoman Pujawan, M.Eng, CSCP (Head of Graduate Program in Industrial Engineering)
Dr.Eng Erwin Widodo, ST., MSc. (Associate Head of Graduate Program in Industrial Engineering)