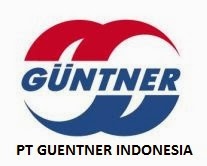 PT Güntner Indonesia is one of the leading multinational companies in Indonesia, and being a part of Güntner-Group. As one of the leading companies worldwide in the sector of heat transfer technology, the Güntner-Group is present on all continents with production sites as well as Güntner affiliated and non-affiliated sales and service companies.
One of the major reasons for the successful development and worldwide expansion of the Güntner-Group are the long years of experience and our commitment to the personal and professional growth of each team member. By constantly striving for improvement and progress, the Güntner-Group is able to guarantee its customers and business partner's continuous and lasting success.
To support our business growth, we invite highly motivated, dynamic, and open-minded individuals to join our dynamic team to establish our company as market leader position as:
Industrial Engineering-Cycle Time Analyst
Jawa Timur
Responsibilities:
The incumbent of this position is to analyze and determine processes standard, motion time study, flow and facilities required to an optimum manufacture process. Measuring and maintaining formula Cycle Time and monitoring of efficiency process.
Requirements:
Male or Female max 30 years Old.
Candidate must possess at least Bachelor Degree in Engineering, preferably in Industrial Engineering
Having working experience in the Engineering field is preferable.
Fresh graduated are wellcome, Motion time study, ergonomic, simulation, layout analysis, etc
Having knowledge of ISO 9001, 14001, OHSAS are preferable
Having knowledge of kaizen system, 5S are preferable
Familiar with statistical process control, Lean Manufacturing, DOE and FMEA.
Having konwoledge of Simulation Sofware are preferable
Posses strong communication skills, able to work under target.
Strong work commitment with the ability to work independently and be self driven.
Proficient in English (spoken and written) and computer application literacy is a must.
Willing to be posted within the factory area in Beji – Pasuruan East Java.
If you possess the above requirements, please send your application letter together with CV (In English) and recent photograph by stating the position code in the subject of the email no later than two weeks after this advertisement to:
gi_jobs@rad.net.id or luhur.wibisono@guentner.com
For more information about our company, please visit us at
www.guentner.de or www.guentner-asia.com
Only short-listed candidates will be notified